The following is a cover story I wrote for the March 2011 issue of the Cascade Blues Association's BluesNotes about one of my favorite Portland musicians, Lloyd Jones. This is the article as I wrote it, without the errant changes introduced during publication. You can hear Lloyd on Show #1, Show #9 and Show #12.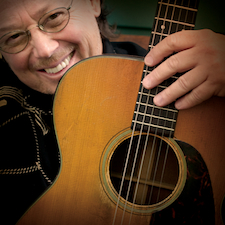 Ask any aspiring musician if he or she would like to be an institution someday, and chances are you'll get an unqualified yes. But find a musician who is an institution, and try asking him if it's as cool as it sounds. You might be surprised by the response.
Lloyd Jones is one such musician. There's no arguing that he's a Portland institution – in fact, Pacific Northwest is probably more like it. He was the bandleader for Brown Sugar, which jumpstarted the careers of Paul deLay and Jim Mesi as well as his own. He was one-half of In Yo' Face, the roof-raising blues/R&B duo he fronted with Curtis Salgado. And for 25 years now he's been the guitarist, vocalist and songwriter for his own outfit, The Lloyd Jones Struggle. He's received 30 Muddy Awards in various categories from the Cascade Blues Association, and was presented with their Lifetime Achievement Award in 2007. He's been inducted into the Oregon Music Hall Of Fame, and performed at the Waterfront Blues Festival every one of the 23 years it has existed.
So what's the downside? Well, when you've worked hard enough and put in the time to earn "institution" status, there's always the risk that the listening public will decide they've heard what you do, they get it, and after a time they may assume you've got nothing new to show them. In a rapidly changing world where the Internet, smartphones and iPods compete for attention, even the most compelling music can get lost amid the noise. Plenty of new artists gain recognition simply because they sound "fresh," while established artists with solid track records may start to fall off the collective radar.
But Lloyd Jones feels like he's still got something to say musically, so he's on a mission to re-connect with blues fans and remind them why luminaries like Robert Cray, Delbert McClinton, Coco Montoya, Bonnie Raitt and Charlie Musselwhite have routinely sung his praises over the years. His strategy consists of a one-two punch: after a drought of several years with no new recordings, he has one new CD arriving in a few weeks, and a second due later this year. On March 11th he and his band will play a special engagement at Jimmy Mak's in Northwest Portland, and Lloyd plans to feature selections from both upcoming CDs at this gig.
The first CD, due in April, is entitled Highway Bound and features a more intimate feel than previous releases, demonstrating Lloyd's talents as a solo performer of classic folk blues material. He throws a few originals into the mix as well, including one song co-written with local piano goddess Janice Scroggins. From the opening uptempo strumming of Lloyd's own "Travelin' On," the listener feels a welcoming and intimate vibe not unlike his long-running Monday night solo outings at the Muddy Rudder in Southeast Portland. As the disc continues with tracks like Elizabeth Cotton's "When I'm Gone," Big Bill Broonzy's "Southbound Train" and others, it quickly becomes clear why friends like Fiona Boyes encouraged Lloyd to make this recording.
"I would never have recorded this," Lloyd says, "But a few people said, 'You don't do these songs exactly like the original artists did – you kind of put your own spin on them.'" So he drove to Seattle and recorded all 16 songs in a single day. "It was a good day," he says with characteristic understatement. And while Lloyd's guitar and vocal performances are remarkable enough on their own, he sweetens the deal with a couple notable guest performers: old bandmate Curtis Salgado adds harmonica to Hoagy Carmichael's "Lazybones," while Lloyd's longtime friend Charlie Musselwhite lends his own formidable blues harp stylings to John Brim's "Ice Cream Man." In each case, the result is a slice of blues heaven.
It's no surprise that Musselwhite was eager to make a contribution to this record. Lloyd and his Brown Sugar crew backed up Charlie playing several Portland dates in the early '70s, and then in the mid-'80s Lloyd went on the road playing guitar with him. They've been close ever since. As Charlie says himself, "Lloyd has been a good friend for over thirty years and has consistently always been a great guitar player – great tone and phrasing from the heart. He's also one of the nicest guys in the business."
For Lloyd, this CD's focus on traditional folk blues is a reflection of his treasured early experiences with blues greats like Big Walter Horton, Johnny Shines, Big Mama Thornton, Chuck Berry, George "Harmonica" Smith, Sonny Terry & Brownie McGhee, Musselwhite and others. They came through Portland on tour in the late '60s and hired Lloyd and his friends as backup musicians. During those trips, with revered practitioners like Horton or S.P. Leary sometimes staying at Lloyd's own house, "they took the time to teach us their craft, and left us with a legacy that needs to be kept alive," he recalls. "I've carried that music with me all my life, and it's my story now." Highway Bound is the eloquent and long-overdue telling of that story.
For Lloyd's show at Jimmy Mak's on March 11th, he'll open the evening with a solo performance to preview some material from Highway Bound. Then he'll kick things up a notch and bring the band onstage to play the "swampified American roadhouse music" that is his stock in trade when accompanied by the full crew. In addition to his core lineup of Glenn Holstrom on keyboards, Timmer Blakeley on bass and Kelly Dunn on drums, Lloyd will up the ante this night and feature the Atlas Horns: Rudy Draco on tenor and baritone sax, and Warren Rand on alto sax. The horn section is sure to add extra impact to time-tested Struggle favorites like "Nickels And Dimes," "Treat Me Like The Dog I Am," "Love Gotcha" and "Trouble Monkey." The beefed-up ensemble will also be poised to offer some tasty sneak peeks of new songs that will appear on the full-band CD coming later this year.
"What I want to do with this recording is to have it leap out at you," Lloyd says of the band's new CD. "I want it to have some attitude to it. And I look for that in every song." Whether it's a driving rocker, a greasy funk number or a slow and eerie blues, he's working hard to coax the maximum dynamics out of every track and allow each song's feel to be the most important factor. "Music is emotional to me," Lloyd says. "And if there's no emotion, if it's all correctly executed but there is no emotion, that's the biggest letdown for me."
Like the acoustic CD, the new band disc will be spiced with notable guest performances. Local sensation LaRhonda Steele provides backing vocals that Lloyd says "just took it to the next level, with the vibe and the tone that she added to it." He also gets some help from Texas blueswoman Teresa James on one song. "It's a fun duet," Lloyd says. "It's like Samantha & Dave instead of Sam & Dave – a real tight, rockin' thing." That song will be released soon as a downloadable single prior to the arrival of the full CD in the fall, so fans should keep their eyes open for an early taste of what's to come.
With almost completely original material, the CD promises to be a strong showcase of Lloyd's songwriting talents. His songs tend to distinguish themselves by their eclectic foundations – rather than mining standard blues structures and lyrical clichés, Lloyd draws substantially from what he likes to call "the other little countries" within the larger world of blues music. He notes quite accurately that "the difference between Texas, Mississippi and New Orleans is vast. There are so many influences that just make the music that much richer." So he assimilates these varied sensibilities into his compositions to create a potent stew that never disappoints. While Lloyd is surprised that sometimes it seems "the blues community is afraid of New Orleans and Memphis influences," he persists in his stylistic synthesis because that's the music that touches him emotionally. Not coincidentally, it's also what tends to get people up out of their seats and onto the dance floor.
Already artists like Coco Montoya, Clarence "Gatemouth" Brown, Michael Burks and Joe Louis Walker have liked Lloyd's songs enough to record their own versions; chances are that folks will find plenty to like in this new crop of tunes as well. The good news is that even with two new releases about to drop, there's still more to come. "I've never been in a position like this," Lloyd says. "It feels great to have two new products after a long absence, and I've got at least 20 more new tunes ready to record. I'm more energized than ever – I can't wait to get back and record some more."
The two new CDs promise to create some welcome momentum for Lloyd in 2011. The Highway Bound disc will launch with a splash in the spring, followed closely by the downloadable single release of his duet with Teresa James. The summer will bring its usual resurgence of festivals and tour dates, during which he'll travel to Canada as well as playing a healthy number of domestic gigs. In September he'll fly to Norway to play a few high-profile shows, soon after which he'll no doubt be back in Portland to host a release party for the full-band CD.
Lloyd is happy to have new projects to share, as he recognizes that even his most ardent fans need something fresh to listen to and reaffirm those signature Lloyd Jones qualities they enjoy so much. Just as importantly, it's hugely significant to Lloyd to have the support and encouragement of his peers – people like Charlie Musselwhite, Robert Cray, Delbert McClinton, Curtis Salgado and many others who contribute to his recordings and his songwriting process and ultimately tell him, "You're not nuts – this is good!" As Lloyd puts it, "You work hard at it and you don't want to screw it up. I feel like I'm just scratching the surface of getting it, and I'm learning every time I get a chance. You just grow as much as you can and keep going. So I've been very fortunate in having the support of other musician friends."
So go ahead – give Lloyd Jones all the credit in the world for the great music he's brought us, and revere him as a genuine Portland institution. But if you take him for granted and figure he's already shown you everything he's capable of, you do so at your own risk. Pass up an opportunity to hear Lloyd – whether it's his solo gig at the Muddy Rudder, his quartet at the Trail's End or the full extravaganza March 11th at Jimmy Mak's – and you're passing up a chance to have your ears opened, your hip joints loosened and your musical possibilities expanded. Look, Lloyd isn't planning to hang it up anytime soon, but just like any of us, he won't be around forever. So go out and catch this guy doing what he truly lives to do: playing. There simply is no substitute, and it is our incredible good fortune to have a talent of this caliber making musical magic night after night, right here in our hometown.
The Lloyd Jones Struggle featuring the Atlas Horns will appear at Jimmy Mak's on Friday, March 11, 2011 at 8:00 PM. Tickets $10 advance, $12 at the door; go to Tickets Oregon for more information. More information on Lloyd Jones, including his performance schedule and links to buy any of his CDs, is available at his website.